OTTAWA PROFESSIONAL GRADUATION PORTRAIT/ HEAD SHOT PHOTOGRAPHER RYAN STUDIO / SPECIAL OCCASIONS PHOTOGRAPHY/ INCL. KANATA / BARRHAVEN / RICHMOND / NEPEAN / STITTSVILLE / ORLEANS /MANOTICK
---
 OTTAWA PROFESSIONAL PHOTOGRAPHERS GRAD / HEAD SHOT / ANNIVERSARY/ PHOTOGRAPHER INCLUDING KANATA / STITTSVILLE / BARRHAVEN / ORLEANS / MANOTICK.
JEFF RYAN PHOTOGRAPHY /RYAN PHOTO IMAGING STUDIO / OTTAWA PROFESSIONAL PORTRAIT STUDIO PHOTOGRAPHER.
MARCH  2023
***GRADUATION PHOTOS AVAILABLE ALL YEAR***
 ***40  YEARS  IN  BUSINESS***  🙂 
BEST IN OTTAWA LINK:    https://www.bestinottawa.com/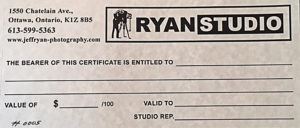 GIFT CERTIFICATES AVAILABLE  !!
***"VOTED WITHIN THE
"TOP FIVE PHOTOGRAPHERS" 
CATEGORY IN OTTAWA " !!!  🙂 🙂 🙂 🙂 🙂
JEFF RYAN PHOTOGRAPHY  "FACEBOOK"   URL:      https://www.facebook.com/JRPhotographyOttawa
JEFF RYAN PHOTOGRAPHY  "INSTAGRAM"  URL:    https://www.instagram.com/ryan_photography_studio_ottawa/?hl=en-
GRADUATION PHOTOGRAPHY—Posing props which include a diploma are kept to a minimum placing emphasis on the face of the student thereby enhancing the finished portrait with limited distraction. Please contact my OTTAWA PORTRAIT STUDIO  to discuss your graduation photography portrait requirements. It would be my pleasure to serve you.
ANNIVERSARY PHOTOGRAPHER—This meaningful moment in your life can be photographed professionally in my OTTAWA PORTRAIT STUDIO or on location. Please contact the studio to discuss your requirements. It would be my pleasure to be affiliated with your family at this milestone event.
OTTAWA PET PORTRAIT PHOTOGRAPHER
Photography of your pet(s) may be created in either our Ottawa Photography Studio, the comfort of your home, or outdoor park environment weather permitting. During spring, summer, and autumn, outdoor pet photography portraits created in a park are most appealing. Our recommendation regarding outdoor photography pertaining to both people and pet portraits is that we schedule two photo session dates should inclement weather occur. In addition, the time of day should also be addressed depending upon which outdoor location will be utilized for your pet photo session.
The sessions include individual portraits of not only your pet, but the inclusion of you as well. Family members are encouraged to dress in  casual attire, lending itself to a relaxed outdoor portrait theme. Your pet is unquestionably an important part of your life, and incorporating it into your family photo session evokes a memorable theme of professional photographs.
With Good Wishes,
JEFF RYAN PHOTOGRAPHER/ RYAN STUDIO OF PROFESSIONAL PORTRAIT
PHOTOGRAPHY/IMAGING, OTTAWA  ONTARIO. 
OTTAWA TRADITIONAL FILM & DIGITAL PHOTOGRAPHER
Email—jeffryan@storm.ca
www.jeffryan-photography.com
613.599.5363