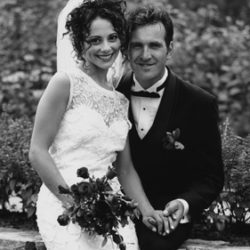 Carl and I wanted to let you know how happy we are with our wedding pictures. Not only were the pictures terrific but also your interaction with our guests was excellent.
I have never enjoyed having my picture taken. I can honestly say that my wedding pictures were awesome!!! Was that really me? You somehow made me feel very relaxed and this was reflected in the pictures. Aside from sore cheeks due to smiling for many hours., I truly enjoyed this experience! The pictures you took of both of us at the Merrickville ruins were just excellent. What a great spot and thank you for suggesting it. Your attention to details such as utilizing the correct angle of the sun, our surroundings and our positioning were all perfectly reflected in our photographs.
Our guests also had a great time. All of them commented on how personable, funny and most of all, patient you were. You made everyone feel comfortable and they actually enjoyed staying still for an hour or so, even the kids!! Now that's quite an accomplishment.
I hope we'll have an occasion to use your services again. Who knows, perhaps at our 5th wedding anniversary!
— Jo-Anne Lepage
We would like to sincerely thank you for providing your photography services before, during and after our wedding which took place on July 9th. As you may well imagine, it was a very stressful day for us. Your reliability, experience, cooperation, creativity and tactfulness contributed to our special day taking place without any complications. Your work continues to delight our family and friends.
We met with two other photographers before we interviewed you. We don't think the phrase "you had us from hello" emphasizes enough our impressions of your work and character. Right from the start, you portrayed someone who was extremely organized and experienced. As you will remember, we hired you that day, after only a few minutes of private discussions, just outside your studio.
We appreciated how you met with us several times before our wedding, both at your studio and several venues, to carefully plan and make suggestions along the way. It reassured us that you would do an outstanding job, and further emphasized that we had selected the right person. Before, during and after the ceremony, the number of formal and informal pictures you took, as well as their quality was truly outstanding. We were hard pressed to make our final decision when it came to building our albums.
All this to express to you our deepest thank you. Although your work speaks for itself, and you don't need client references, we would recommend you in a heartbeat, and will not hesitate to request your services again in the future.
— Martin and Krista Menard
We would like to express our sincere appreciation for the excellent work you did in putting our wedding albums together. Your photography was exceptional both technically and artistically. We often show our album to friends and family and they are also impressed by the excellence of your work. Your pictures captured both the mood and the spirit of our wedding.
We also want to commend you on the professional way in which you run your business. Our order was completed promptly and accurately. Your choices of photo finisher and album supplier were of the highest quality. You were also able to make all the small changes such as touch ups and cropping that we requested.
Most of all we are gratefull for your tireless effort to ensure our satisfaction. No doubt your honesty and sincerity is the key to your success. Feel free to have future clients contact us for a reference. We would be happy to let others know of your talents.
— Mark Walker and Jane Lougheed
We wish to express our sincere gratitude for the outstanding photography you did for our wedding in August. Please accept this as a letter of recommendation to use for your future prospects.
We recall it was exactly one year prior to our wedding date that we first met with you to discuss our photo options. We were so impressed by your warm welcome, your extensive knowledge of the outcome of a typical wedding day, and the impressive work you displayed at your studio, that we signed on with you immediately.
Our wedding day came pretty quickly after that initial meeting, and you continued to impress us with your incredible organizational skills and attention to detail. We particularly enjoyed the photo session at the Experimental Farm. In fact, the pictures turned out so well, we had a difficult time choosing our favourites!
Thank you for making our wedding day more beautiful than we could have imagined, and thank you for presenting us with memories that will last us a lifetime!
— Cherie and Wayne Kelly
Thank you so much for your excellent work and professionalism on our wedding day. It must have been quite difficult to deal with me at times (all day). We just saw the proof set/originals and are really looking forward to seeing the finished product!
— David and Tricia Peever
Thank you very much for agreeing to photograph our day, and I am glad you were able to derive enjoyment from the fun we were having! The photographs you have taken are "Wonderful" and we are happy with the time and effort you put into each shot! We are looking forward to seeing the albums in the New Year and in the meantime we wish you the best!
— Bettina and David Morden
Andrew and I wanted to thank you for capturing our special day. We had such positive feedback from the wedding party and family on how good you were! Can't wait to see the pictures!
— Andrew and Sonia
I wanted to personally thank you for creating such a wonderful atmosphere for Heather & Christopher's wedding! Watching you, I have indeed learned photography is as much art as science. Your personal engagement with all of us throughout the process made all the difference. I will treasure each picture!
— Janet T.
In the summer of last year, we met with Jeff for the first time. His charisma and good humour made an immediate impression on us, and subsequently, our choice as to who would photograph us on our special day, an easy one to make.
Later that summer, Jeff took a few engagement photos of us, from which he developed a large portrait (at his suggestion), that was to be used as our guest signing piece during our wedding reception, giving us a small glimpse of what it would be like to work with him on our wedding day.
Everyone who has seen this portrait has been immediately impressed with the level of quality and detail. If you never knew us, or how much we loved each other, you would just by looking at it.
A year later, our wedding day arrived and being photographed by Jeff was nothing short of a terrific experience. Not only was he fun to work with, but he was also excited to work with us and eager to take as many photographs as the daylight hours would provide. Again, this set him apart for us.
Jeff Ryan leaves all expectations at the door and tries his best to capture the essence of the couple and their love for each other. His genuine love for his work, his passion, sense of humour, and his easy going personality have made Jeff a true pleasure to work with. Although we wanted our wedding day to last forever, we are overjoyed every time we look at our photographs as a lasting memory of one of the most important milestones in our lives, as well as a reflection of the commitment and workmanship that Jeff exemplifies.
— Debra and Tyrone Reuter
Last summer, my wife and I approached Jeff Ryan for his services for our wedding ceremony. The first thing we noticed about Jeff is that he was extremely friendly and very respectful of the fact that we had just started looking into photographers. He provided us with good advice on what to look for, but also what to think of in terms of planning for our big day. We met with a few other photographers, but soon realized that none seemed to demonstrate the same level of dedication to their craft. Naturally we chose to go with Jeff.
On our wedding day, we didn't need to worry about a thing! He was able to take shots in excellent angles without ever being in the way, and he did a phenomenal job working with our guests to get the various pictures we had requested. He was always very friendly, never rushing anyone to get from one shot to another, while maintaining a close handle on our schedule during the day.
The final results were absolutely fantastic!!! We've received a huge amount of compliments on our wedding pictures. We truly could not have asked for a better outcome, and we would greatly recommend Jeff to anyone looking for a high calibre photographer for their special event.
— Andrea & Jean Lamoureux