OTTAWA PROFESSIONAL PHOTOGRAPHERS BLOG POST RYAN STUDIO/ STUDIO PORTRAIT PHOTOGRAPHER/ JEFF RYAN PHOTOGRAPHY SERVING KANATA, STITTSVILLE, NEPEAN, BARRHAVEN, MANOTICK, ORLEANS
OTTAWA /KANATA / STITTSVILLE / BARRHAVEN / MANOTICK / ORLEANS/  PROFESSIONAL DANCE / MODEL PORTFOLIO / LOCATION / STUDIO / FILM AND DIGITAL PHOTOGRAPHY / FAIRY PORTRAIT PICTURE PHOTOGRAPHER
MARCH  2021
TITLE:     "SHE….. IN MY TRUST".       "YOUR  NEVER  WRONG  TO  DO  THE  RIGHT  THING"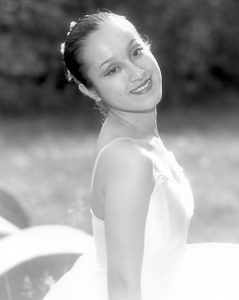 Dear Readers:
Recently, I have been transported back in time so to speak while sorting through paperwork, photographs, and boxes of professional negatives and transparencies.
Although I commonly find myself being short of time, I found that reviewing numerous binders of imagery lead me to a memorable occasion years ago which I thought I would like to share.
To this day, you, the reader, should know that this incident humbles me with the greatest levels of sincerity when recalling a phone call from an established, credible businessman in Ottawa. The retelling of this event is in "no way" trying to solicit a recognition of ego on my behalf "at all".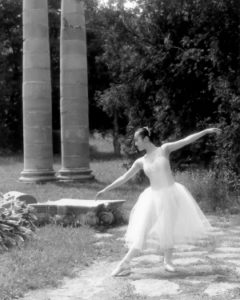 The incident involved creating opportunities and guardianship of an exchange student from Japan while visiting Ottawa. Apparently, my professional photographic work and character had been evaluated by officials, and I was contacted by such, inquiring if I would be interested in meeting with them. I was flattered by their request and elected to discuss the arrangement's further. We met over the following week and it was requested of me to create a series of professional portraits of a young lady in formal ballet attire and naturally, it was asked if I felt comfortable being responsible for her well being working one on one with her. Taking responsibility for other individuals is something I have taken very seriously in previous photo sessions. After further discussions, I decided to be an active participant in this girls visit to Canada and have never had a moments doubt as having done the right thing. What a pleasant experience it was when I had the opportunity to finally meet with her. Our personalities connected immediately and it was as if old friends had just rekindled a long, distant friendship. How privileged I felt to have had this opportunity of spending time with someone from another country who willingly shared her day to day life style activities with me. Interesting as it is, that we are all basically the same yet, depending upon where we reside our life's circumstances can vary so greatly, hopefully in positive measures. It was also decided that the photo session would be created exclusively in black & white giving me the opportunity to custom print several images in my own darkroom.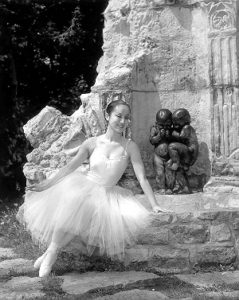 I was making decisions as to how I wanted her imagery to appear, and I finally concluded that it would be a wonderful opportunity for her to be photographed outdoors amongst various city venues as opposed to an "in studio" session. On the day of our scheduled event, we met early and exchanged lovely conversation including what dress she should wear, how her hair would look fitted with a variety of tiaras, where the location would be and what time would be most suitable.
When all details had been finalized, we were off with a somewhat later departure than what I had hopped for. Heading to an attractive outdoor recreational area, I began my evaluation of the direct sun's angle creating hard levels of contrast, making decisions as to which film would best portray the mood of the scene, and then selecting specific areas to compliment the art of the dance. The sun kept making "in and out appearances" as it went behind the clouds altering the exposure of my camera and portable flash units. This naturally extended the length of our session and regrettably, we were unable to experience  alternate venues due to a variety of reasons being…. our late arrival, the general public entering the picture scene and the lapsed time. Several hours of posing and laughter elevated me to levels of fulfillment shared with another member of the arts community.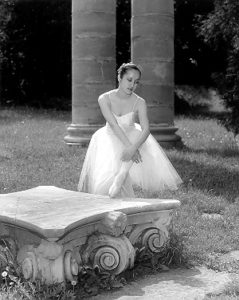 ON AN ALTERNATE NOTE BEFORE CONCLUDING:
As a habit, I customarily process all my professional black and white film in my own wet darkroom however, circumstances of equipment breakdown prevailed, and I was forced to utilize the services of a retail lab. When I arrived on the scheduled day to retrieve my film, I was startled to find that the lights in the store were off and I could see silhouetted figures of two people making elongated arm gestures in front of their processing machine. This is a scenario that any photographer who produces work on a professional basis should never have to succumb to. Apparently while the bulk of my films were loaded in their processing machine, a forward movement gear broke and the films were locked into position during the development. I naturally concluded that a serious problem had occurred and when conversing with a clerk, he indicated that the majority of my films were destroyed and they would be held liable only for the initial cost of the film. (The arm gestures accounted for them, pulling rolls of film out of the machine by hand trying to reinstate gear movement). I was devastated at this lost due to the fact that I submitted all rolls of film at one time for processing. This was a hard lesson to learn, and from that point onwards, I  continue to submit specific quantities of film to labs should another unfortunate incident occur. *All my professional  colour films are processed at high quality commercial processing labs however, I welcome the opportunity to custom hand develop black and white with exacting agitation methods.  In this unfortunate set of circumstances, the imagery I created could not be replicated with naturally, sorrowful feelings attached. However, one must strive to adopt an ongoing positive approach in this limited time we have in life so I began again, taking one day at a time photographing other topics of interest. Months went by and all was well.
*The imagery featured is regrettably a handful of what was initially created.  Alternately, I'm grateful that these remaining frames endured  particularly since the processed film that survived was also in question.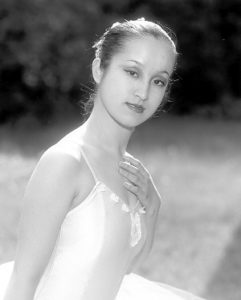 CONTINUATION OF MAIN ARTICLE:
Once again and assuredly, the time keepers clock continues to move forward and our photo session was concluded that day. When leaving the park with these "newfound memories" which would be shelved for years to come was truly an enlightening experience.
I was extremely grateful for this acknowledgement of my professional photographic services and trust that this, and other individuals have solicited from me over the years. Is not the admiration of others in itself one of the greatest rewards in establishing "self worth". This is a pattern I elect to implement in my students and people in general meaning…..don't discard yourself ever as being inadequate or question your capacities. Others, for the most part see you in a completely different, preferably positive light than we do when evaluating ourselves.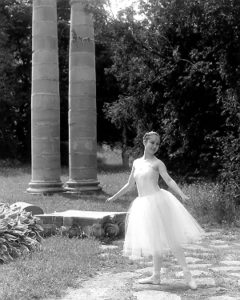 In my walk of life I have learned that judging others has frequently established itself as being a  "MISDIRECTION  OF  ENERGY  IN  A  DAYS  INVESTMENT  OF  TIME" 
Always' Remember…… "Your Never Wrong To Do The Right Thing".
With My Good Wishes Extended,
Jeff Ryan Photography/Ryan Studio Ottawa.