KAREN KAIN /THE NATIONAL BALLET OF CANADA/JEFF RYAN PROFESSIONAL PHOTOGRAPHY/RYAN STUDIO OTTAWA
KAREN KAIN / FORMER RETIRED PROFESSIONAL BALLET DANCER, ARTISTIC DIRECTOR/ THE NATIONAL BALLET OF CANADA/ OTTAWA PROFESSIONAL PHOTOGRAPHER JEFF RYAN PHOTOGRAPHY/RYAN STUDIO OF PROFESSIONAL PHOTOGRAPHY/ OTTAWA BALLET DANCE PORTFOLIO PHOTOGRAPHY
MAY 2021
*Disclaimer:  All subsequent "Actual Images of Karen Kain" in this blog post are from alternate photographers and have "not" been created by Jeff Ryan Professional Photography Studio/Ottawa.  Imagery of Karen Kain's ballet shoes, roses, magnet have been created by Jeff Ryan Professional Photography Studio Ottawa for the inclusion in this article/blog post. Thank You.
"Karen Kain—A Treasured Find"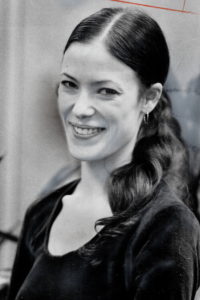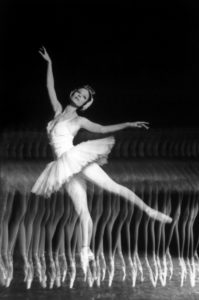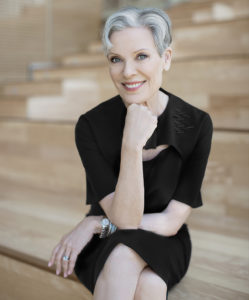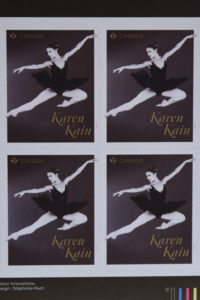 Hello Ladies And Gentleman:
It is with great pleasure that I am able to present to  you this remarkable occurrence presented to me over the last year which I hope you may find pleasure with! It is one of those once in a lifetime situations of happiness that comes to each of us periodically. As the title of the article indicates, this is about Karen Kain.  A decorated professional dancer whose great achievements even in her retirement years from actual dance, are known to a very wide audience. Now, a director of The National Ballet Of Canada, she is equally capable of bringing an on-going breadth of knowledge to all novices seeking this magnificent expression of art. 
***Karen's message on the National Ballets Website in March 2021 reads………This pandemic is the most serious crises the performing arts has faced in my lifetime, and I am deeply touched by the tremendous support shown to the company.  All of us at The National Ballet are grateful for the continued commitment of our audience and donors.  Thank you!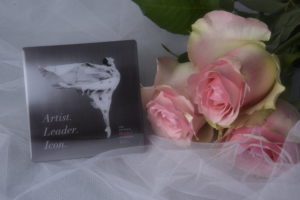 *IMAGE BY JEFF RYAN PHOTOGRAPHY/RYAN STUDIO OF OTTAWA
*I have included several images of Karen's ballet shoes for your enjoyment throughout my article. My hope is that it will perhaps inspire members of youth or otherwise to enroll in a dance curriculum and at the same time, provide you with an interesting moment of a fond reflection I was presented with.
**I would encourage the reader to enlarge the soul of the shoes which displays information regarding the actual performance she danced wearing this attire. 
Article:
I recall a day quite vividly last year when I was inundated at my desk with excessive paperwork, and a welcome break was badly needed. I changed to a more comfortable location, picked up a large book to act as a replacement for my desk being used as a hard writing surface, and as my task continued, I noticed that I had selected a book on dance featuring Karen Kain.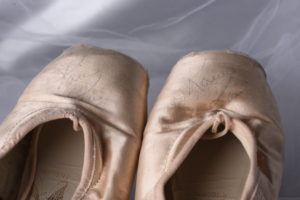 *IMAGE BY JEFF RYAN PHOTOGRAPHY/RYAN STUDIO OF OTTAWA
I did not select this book intentionally; it is something that just seemingly made itself available to me amongst the numerous other titles I own. Completing the office work created a desire to peruse the pages of this book more thoroughly and after reviewing the photographs, I elected to do a simple search for Karen on the internet. This was one of those moments in life when a person simply does something just for the sake of doing it. It was a welcome break from routine, and I was quite taken back upon discovering a few items of reference to Karen and her distinguished career but in particular, "an original pair of her ballet shoes up for sale".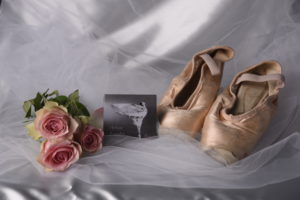 *IMAGE BY JEFF RYAN PHOTOGRAPHY/RYAN STUDIO OF OTTAWA
I naturally had reservations as to the validity of the featured item. However, upon close inspection and in particular after conversing with the lady who sold them to me being a resident of the United States, I knew these were authentic. These events I'm pleased to share with you are absolutely genuine and for all lovers of the dance, I hope this story provides you with a wonderful level of fulfillment.
This event included a remarkable background involving Karen's shoes pertaining to a young novice dancer who at the time, was fortunate enough to be witnessing Rudolph Nureyev and Karen Kain dancing a performance of "Sleeping Beauty" in 1979 at the New York State Theatre now renamed the "David H. Koch Theatre". Below are featured excerpts from her letter to me as to how this event occurred.
Dear Talented, Kind Jeff: – (I'm very humbled incidentally with her remark)
I grew up in NYC from 1979 until 1985 and had been studying ballet, and was later given a scholarship to the American Ballet Theatre's School.  Our "summer of 1979", was blessed by the arrival of the gleaming National Ballet Of Canada, at the New York State Theatre. Rudolf Nureyev was guesting with the company and was marvelous partnering with Karen. We were thrilled to witness The National Ballet Of Canada, on several evenings, during their NYC tour. The highlight of their repertoire, was "Sleeping Beauty" and to encounter Rudolf and Karen together, was mesmerizing!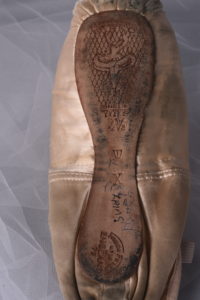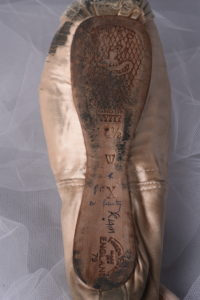 *IMAGERY BY JEFF RYAN PHOTOGRAPHY/RYAN STUDIO OF OTTAWA
The company was equally thrilling. We had a mutual friend who introduced us to Karen and Rudolf. They were both so kind, gracious and had incredible humility. I, a young admiring novice became the happy recipient of a brief conversation with Karen backstage as well. While singing my praises of Karen's accomplishments, our lady of the dance chose to autograph her performance shoes and present them to me….an admiring onlookcr.  Karen generously gave me those "golden slippers," in her dressing room and signed them on my behalf.    End.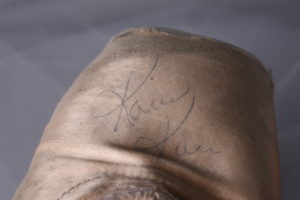 *IMAGE BY JEFF RYAN PHOTOGRAPHY/RYAN STUDIO OF OTTAWA
Now, after many years of ownership, in the year 2020 she felt it appropriate to place them up for sale with the hopeful wishes that someone, in particular a Canadian, would see them and elect to purchase the footwear and have them returned to Canada where Karen originated. When I contacted her informing her that I would like to make arrangement's to purchase the ballet shoes and have them hosted in our Nations Capital, my American affiliate was simply delighted.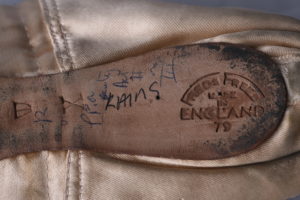 *IMAGE BY JEFF RYAN PHOTOGRAPHY/RYAN STUDIO OF OTTAWA
It was pleasant as well sharing information with my new friend pertaining to my sister who became a ballet instructor in Ottawa, and of "her teacher" who was not only an accomplished dancer from England's Royal Ballet Company, but also an accomplished and decorated hurdler in Britain's Olympic games. Moments in life such as this can bring such pleasure to individuals enhancing one's journey to greater levels of life's gifts. I will be directing imagery and as to how I acquired these ballet shoes to Karen Kain at The National Ballet Of Canada over the next month should circumstances due to Covid subside slightly. Thank you for reading my article on our lady of the dance and incidentally, Canada Post has just released a new stamp featured above of Karen that I have included here should you wish to make a purchase of it.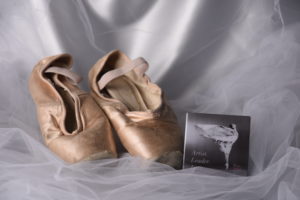 *IMAGE BY JEFF RYAN PHOTOGRAPHY/RYAN STUDIO OF OTTAWA
Equipment Used To Photograph The Ballet Shoes
To photograph the ballet shoes, two camera systems were utilized being a high end Nikon digital product accompanied with zoom and micro lenses for close up work, and my Mamiya RZ 67 medium format film camera lending itself to excellent characteristics of diffusion through proper lens selection. When creating imagery for product photography clients or otherwise-(See the "Services" area in my directory), attention to detail is paramount. Proper lens and lighting selection to enhance the items strong points and subdue lesser features is frequently taken into consideration. Lighting arrangements range from strobe to available light and of course……..tungsten. In this digital age, many would be surprised at how I still access professional film when creating my work however it should not be overlooked. It incorporates a different polished appearance to items or people being photographed and as I share with my students, it provides a person with educational levels of good workmanship and discipline that a digital camera does not offer. Film photography cameras if handled correctly dictate slower, more well thought out compositions. With each exposure created, there is a cost to the photographer if using print film, and a flat rate fee charged per roll pertaining to slide film. This article which originates in Ottawa in the month of May 2021 attests to the fact that film products are still readily available in this city and at large web based retailers and or camera stores elsewhere. Should the reader be interested in receiving information as to where they may purchase film, I would be pleased to advise them.   End.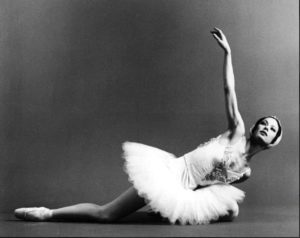 Jeff Ryan Photography/Ryan Studio Ottawa
www.jeffryan-photography.com