OTTAWA PROFESSIONAL BALLET/ DANCE / CHILDRENS FAIRY PORTRAIT PHOTOGRAPHY/MAUREEN GARDNER DYSON/ PHOTOGRAPHER SERVING KANATA, STITTSVILLE, RICHMOND, BARRHAVEN, ORLEANS, MANOTICK, NEPEAN, ORLEANS.
OTTAWA PROFESSIONAL PHOTOGRAPHERS STUDIO/ON LOCATION PHOTOGRAPHY JEFF RYAN PHOTOGRAPHER, KANATA, STITTSVILLE, BARRHAVEN, NEPEAN, MANOTICK, ORLEANS, RICHMOND. OTTWA OLD PHOTOGRAPH, RESTORATION PRINT PHOTOGRAPHER INCLUDING MATERNITY, DANCE, FAMILY, BALLET, BUSINESS HEAD SHOTS, GRADUATION PHOTO.
JULY 2021
*These images of Maureen Gardner/Dyson have been created by alternate photographers.
MAUREEN GARDNER—–(1928-1974)
*My Tribute to a most talented lady.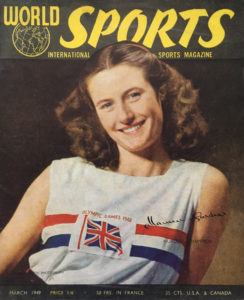 FRONT COVER OF MAGAZINE DATED MARCH 1949
Hello Ladies & Gentleman:
Thank you being here! 
Customarily, my blog posts represent imagery "I" have created however, not on this occasion as mentioned previously. These accompanying photographs, the majority from my own personal collection, have been created in the 1940's and otherwise.  I wanted to take this opportunity to share some imagery and thoughts pertaining to a lady of great accomplishment that my family was privileged in being affiliated with.  Her name was Maureen Gardner from England who was an Olympic hurdler and silver medalist.  In a previous blog, I have made reference to her and my sisters affiliation pertaining to ballet.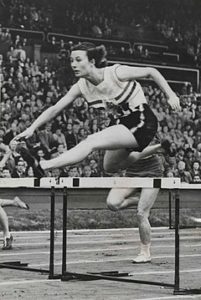 To introduce this article properly, I should make reference to my mother, who for a number of years was  employed at The Royal Canadian Legion in Ottawa where our family resides.  The Legion from time to time presented  great opportunities in regard to  being introduced to visiting dignitaries and other people of noteworthy backgrounds/reputation.  On one such occasion when Canada was searching for athletic individuals of credibility, they discovered a gentleman by the name of  Geoff Dyson who was an accomplished football player and  Britain's chief national track and field coach along with his wife the hurdler, Maureen Gardner. This man regarding knowledge of track and field as well as other areas of sport was most educated it should be said.  On a visit to Canada, the Legion had the pleasure of meeting the Dyson's and an immediate relationship was established.  As time went on, a position was offered to Mr. Dyson in Canada and he and his wife moved here in 1962 to fulfill his new obligations.  Maureen decidedly  founded another ballet school in Ottawa since she had established herself previoulsy in England as a dance instructor. Maureen's involvement with ballet continued when she returned to England from 1968 onwards, and her newly assumed role was primarily  an examiner for the Royal Ballet School.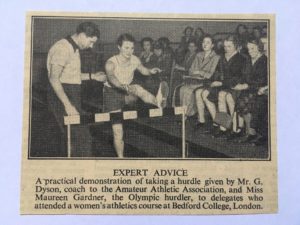 THEIR MEETING-(Maureen & Geoff)
Geoff Dyson, the newly appointed Chief National Coach to the Amateur Athletic Association, met Maureen whilst advising the Oxford University Athletic Club at the Iffley Road track. Realizing that her suppleness as a ballet dancer, combined with her natural speed, should make her a fine hurdler, he persuaded her to take up the event, and soon became her coach. She had immediate and illustrious National and International success, and her most memorable race was undoubtedly the 80 metre hurdle in the 1948 Olympic final at Wembley where she was sadly beaten by Fanny Blankers-Koen in a photo finish with both athletes breaking the world record of 11.2 seconds.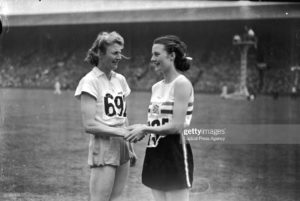 At the 1948 London Olympics, women's 80 metres hurdles silver medallist Maureen Gardner congratulates the winner of the event, Fanny Blankers-Koen of the Netherlands, 4th August 1948.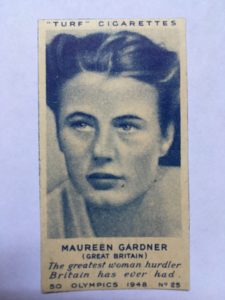 MAUREENS BACKGROUND
Before taking up athletics, Gardner, the daughter of an Oxfordshire police officer, trained as a ballet dancer, and during the war, commuted from her home to the Royal Academy of Dance in London. As an athlete, Maureen competed mainly in the 80 metre  hurdles. She won silver medals at the 1948 Summer Olympics and 1950 European Athletics Championships and at the time  competed as Maureen Dyson.   In addition, she was also four time AAAs National Champion in the 80 metres hurdles (1947, 1948, 1950, 1951).   This is a remarkable achievement considering her first love, which was much supported by her mother, was ballet. Maureen started her first Maureen Gardner School of Ballet in Cowley, Oxfordshire and later started similar schools in Wanstead London, then Ottawa Canada in the early 1960's, and lastly in Winchester.  Her schools continued for a number of years.  Two years before she died of cancer at the age of 46, she was made the Chief Examiner of The Royal Academy Of Dancing organization.  She studied under Madam Espinosa in London and was about to join The International Ballet Company when she was smitten by serious illness. When she returned to England, the Doctors forbade her from travelling  to London each day. Two or three years before she died, she was appointed Chief Examiner to the Royal Academy of Dancing, which she regarded not only as an honour, but also a challenge. An accomplished pianist, dancer, singer, teacher, and above all athlete. Gardner  took up athletics after contracting pleurisy and pneumonia and being advised to join the Oxford Ladies Athletic Club to regain her strength. She proved a natural sprinter, and in 1945, at the age of 16, won the Oxfordshire 100- and 220-yard titles.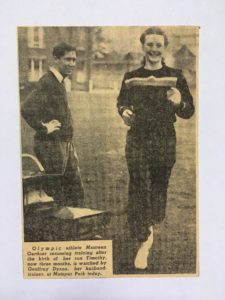 Gardner was the WAAA 100 yards champion in 1946, and that year was fifth in the European Championship 100, and fourth in the sprint relay. She was second in the WAAA 100 in 1947 but won four more titles, all in the sprint hurdles, in 1947-48 and 1950-51. In the last of those years, she won a hurdles silver medal at the Europeans, again being deprived by Blankers-Koen. Gardner was by then competing as Maureen Dyson after marrying Geoffrey Dyson, her coach and former AAA chief coach, shortly after the 1948 Olympics. Gardner was in training for the 1952 Olympics , but retired from the sport in the autumn of 1951 when it was discovered she was expecting her second child.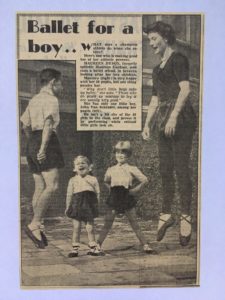 The following images feature The Dyson's with their first born child Tim in 1949.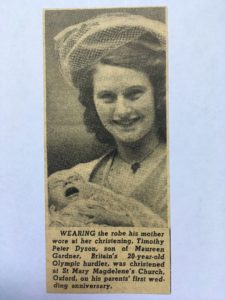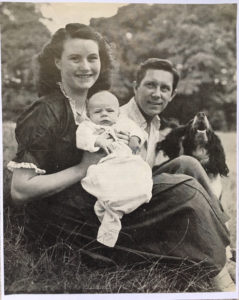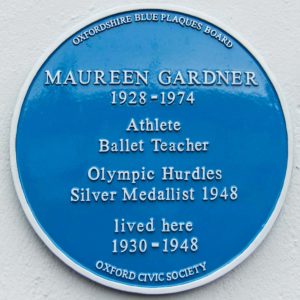 I have elected to produce this article for a couple of reasons, one of which is the relationship that was established between my sister and Maureen.  Admittedly, my sister was a very young girl when being instructed by this talented lady from England however to this day, she remembers the diligence and order that Maureen insisted on in all of her classes.  The Dyson's were residents of Manor Park/Ottawa, and each week my sister would be attending either one or two lessons in ballet.  The locations were shared between a church close to the Dyson's residence and their home itself.  As a young boy, I was tossed into the back seat of the car with my sister being driven to these classes only to sit in  the basement of their home, or in a corridor of the church basement.  I was constantly wanting to go home, being tired of the seemingly on going, never ending instruction by Mrs. Dyson accompanied with her words………tummy in, buttocks in, excellent posture always girls, demi plea. My sister attended classes with a few other girls at times but primarily with Mrs. Dyson on an individual basis which later proved to be a benefactor when the opportunity to be an instructor was presented to her.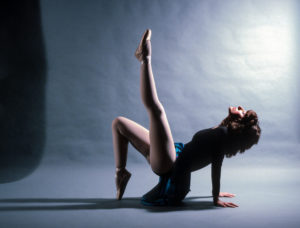 ***ABOVE PHOTOGRAPH BY JEFF RYAN PHOTOGRAPHY / RYAN STUDIO OTTAWA
I am now considerably older however I only wish I could reverse the hands of  time itself and sit outside the entrance way to the classroom and observe Maureen instructing the children.  As a child, I had no idea of the great talent that was before me.   My sisters accomplishments in ballet were noticed at  public performance events when an audience member approached her offering her a job as a ballet teacher at the R.A.Centre in Ottawa.  She accepted the position and was a well respected instructor there for 17 years. She began teaching at the age of 15 and concluded in her early thirties. Her skill set which was primarily influenced by Maureen Gardner was noticed by numerous people and led to her being a visitor instructor in many dance schools in Ottawa.  I have included the above photograph of my sister in profile  as she appeared during her time of being an instructor for reference purposes should you the reader wish to view her appearance. What a remarkable gift Mrs. Maureen Dyson brought to so many individuals on numerous levels. How I wish I was older at the time of our families association with her.  Maureen Gardner/Dyson, a true gift that was given us and so sadly, left us long ago.
With My Good Wishes Extended,
Jeff Ryan Photography/Ryan Studio Ottawa, Ont.
www.jeffryan-photography.com