OTTAWA PROFESSIONAL PHOTOGRAPHER/ CATHOLIC ARCHDIOCESE/CLERGY/ PRIESTS/ CONVENTS/ SISTERS/ CHURCH/ SACRED/ JEFF RYAN PHOTOGRAPHY / KANATA / STITTSVILLE / BARRHAVEN / MANOTICK/ NEPEAN/ ORLEANS.
OTTAWA PROFESSIONAL CHURCH/ CLERGY/ ARCH DIOCESE PHOTOGRAPHER / RYAN STUDIO SERVING KANATA, STITTSVILLE, BARRHAVEN, MANOTICK, NEPEAN, ORLEANS
AUGUST 2021
Hello Ladies and Gentleman: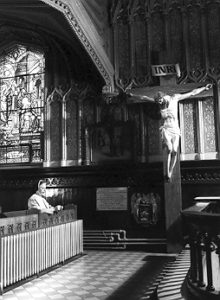 I would like to share with you a great opportunity which occurred in my career some time ago. It was an occasion which has never left me and introduced me to a lovely individual of the most sincere faith. I have included a series of images produced from our formal portrait sessions for your pleasure and hope you have an appreciation of them as much as I.
I was contacted by the Arch Diocese Of Ottawa in regards to creating a series of portraits of a visiting missionary. I have created work previously for the church and was not overly surprised to hear from them however, upon further conversations with my priest, he indicated that this lady dose not speak English. She spoke two other languages and this lead me to believe that the practicality of me trying to engage someone in a portrait session would be impossible since we could not communicate.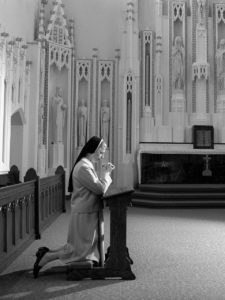 I was assured that the lady whom they wished photographed was a very accommodating representative of the church and I should not be overly concerned by any language barriers. I must admit that I was most apprehensive agreeing to a photo session of this nature thinking that I would not be able to deliver meaningful portraits that the church was requesting. I recall that a few days went by before I contacted the Diocese again making further inquiries trying to reassure myself of this rather awkward situation. I elected to commit to the session and obtained as much information as possible about the nuns background. This was unfortunate because obtaining information pertaining to her background with a language barrier meant I was unable to converse with her and share some of her life's experiences. The Diocese requested formal imagery of her be made in two locations. One being the main Basilica in Ottawa followed by the chapel of Elizabeth Bruyer which under normal circumstances is only available to the sisters themselves or affiliated members of the church. What an honour I felt it would be to have been given permission to enter such a sacred place.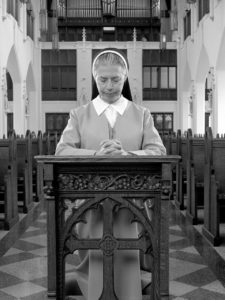 I arrived at Elizabeth Bruyer and was instructed to proceed to a back door of the building where my equipment could be unloaded. I was fortunate to have been greeted by a bilingual sister who acted as an intermediary briefly during the actual photo session itself. She requested I accompany her to another area of the building and I was quite taken back upon entering the actual chapel of prayer where the sisters regularly congregate. The beautiful soliloquy, decor, and thoughtfulness one recognizes when reflecting upon the various religious items throughout was very moving. I quickly reviewed the chapel making mental notes as to where I could position the sister to reflect the ambience of the area. I drew conclusions that a couple of locations could reflect the sensitivity of the imagery I wanted to create. (It should be pointed out now that knowing your equipment thoroughly for such an important occasion is paramount. In addition, should equipment experience difficulties on location, back up gear is a top priority without doubt).  As I was in the process of setting up my gear, a small limited presence of sisters being the mother superior, known by today's reference as General Superior Of The Order, the visiting sister herself and other curious onlookers attended.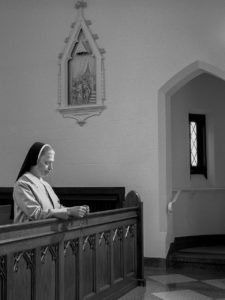 Once my equipment setup was finalized, I began measuring light values in the chapel which determined which film I would be utilizing during our session. Today, with modern digital cameras, one simply has to flip a switch to alter sensitivity settings of the camera however, this session was photographed with professional film which I still use, and metering techniques were implied accordingly.
I was now able to be introduced formally to my guest and as mentioned, with the assistance of an interpreter I instructed her to my first location. I attempted to converse with her as much as my limitations permitted, and was astounded at her warm, welcoming and undeniable level of enthusiasm in regards to establishing an immediate friendship. Her smile was absolutely genuine and reassuring and all my reservations were immediately dispensed.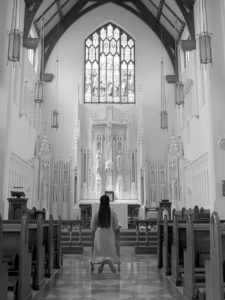 I directed her to my first location and placed myself in poses that I wanted her to replicate by the movement of gesture. She immediately mimicked my instructions and I began finalizing lighting and camera angle prior to the recording of imagery. I am a member of Catholic faith and the reason I mention this is because I inquired if she had her rosary with her which I felt would add additional authenticity and sensitivity to the imagery. Regrettably she did not have one however since I carry mine with me for the most part, I suggested she use this while meditating in prayer while the session was taking place. She consented to this and I was very pleased with the final imagery which my rosary added accenting her gracefulness. Our working relationship was secured at this point and when it came time to relocate her to other locations in the chapel, she responded instantly with that lovely, welcoming smile. The sister had a specific time frame available for the creation of these images and as our session was nearing completion, my interpreter confirmed that another location would be a welcome opportunity to create portrayals of her special visit to Ottawa.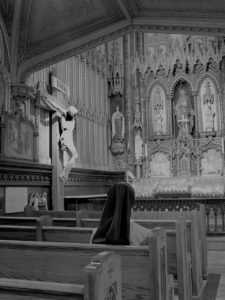 The following day I found myself once again making my way to the downtown core and began setting my equipment up in the Basilica on Sussex Drive. How wonderful it was to have been cleared of permission to have full access to this magnificent structure! She arrived at the cathedral being very punctual and respectful of my time, and our theme of mutual enthusiasm continued. She was not accompanied with our interpreter during this session due to the fact that we established a connection yesterday and once again, she lent herself to this photo engagement with ease. How I could only wish that many of my clients would be this polite and accommodating over the years.
I returned to my lab then next day to process the films from both locations and this, as usual, was handled very gently. Gently meaning, the negatives were developed to produce low levels of contrast which would give me the freedom later of introducing greater levels of contrast during the printing stages should the need arise.  The finished photographs had to be processed quickly due to my guests limited time in Ottawa. The portraits were presented to the acting Mother Superior along with my guest and I was pleased that they were well received.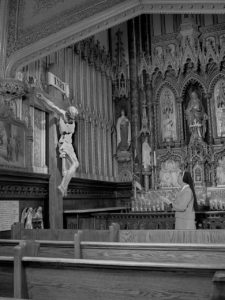 As I was printing the imagery in my darkroom reflecting upon our session, I was quite taken back at what opportunity had been presented to me. For me to have been contacted by the Diocese to share this experience with another individuals walk of life was deeply touching. It undoubtedly generates a feeling of self worth and contribution in our daily routines. Politely spoken here, perhaps this message can be directed to you the reader at this point realizing that even though you may not think you have accomplished much at times, or perhaps may seemingly have been denied the recognition from others….I would encourage you to reflect on this further. During these trying times of Covid with tremendous levels of negativity present, many individuals I have conversed with seem particularly down on themselves which is certainly unnecessary. Every person in this world has a given, positive purpose. I believe it to be inappropriate and destructive for good people to judge themselves so harshly which is a clear, well supported message from the church. Self attacks accomplish nothing except extinguish your positivity and good standing in society. One should reflect on your achievements and good nature in a general  sense  which is frequently recognized by those who stand amongst you, and yet so often overlooked by oneself.
Remember….. "Seeking the advice of others is fine but to thine own self be true".
With My Good Wishes Extended,
Jeff Ryan Photography/Ryan Studio
www.jeffryan-photography.com