OTTAWA PROFESSIONAL COMMERCIAL PHOTOGRAPHER, ROYAL CANADIAN LEGION, REMEMBRANCE DAY, VETERANS, GOVERNMENT OF ONTARIO CANADA PHOTOGRAPHY
OTTAWA PROFESSIONAL PHOTOGRAPHER, REMEMBRANCE DAY, VETERANS AFFAIRS, NOVEMBER 11, WORLD WAR 2, ROYAL CANADIAN LEGION. PROFESSIONAL PHOTOGRAPHY SERVING OTTAWA, KANATA, STITTSVILLE, BARRHAVEN, RICHMOND, MANOTICK, NEPEAN, ORLEANS.   JEFF RYAN PROFESSIONAL PHOTOGRAPHY STUDIO
NOVEMBER 2021
THE MONTH OF REMEMBRANCE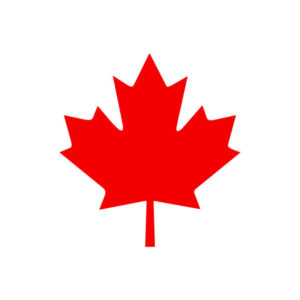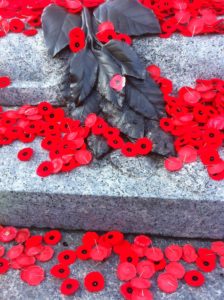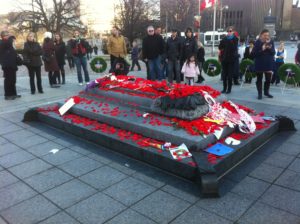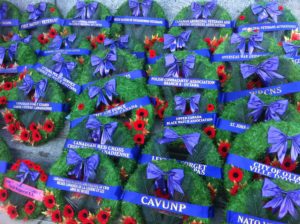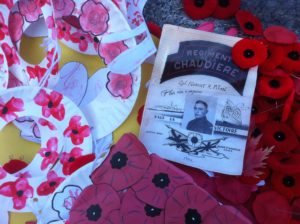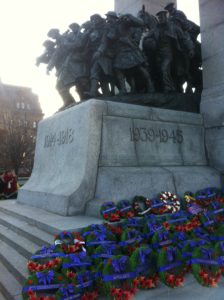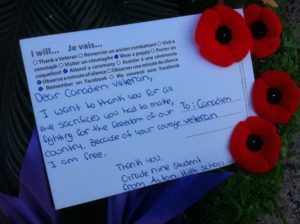 Hello Ladies and Gentleman:
Thank you for visiting my blog post this month. 
*I appreciate you being here. 
I have included many images of The War Memorial in Ottawa and it's surrounding area out of  sincere thoughtfulness and reverence within this article.   I hope this text and photo story generates an on going respect for our fine people of Canada who gave so much for both you and I.
A few years ago, I made a visit to the cenotaph with the intention of  attending the memorial services, and afterwards elected to create an extensive amount of imagery depicting it.  One cannot help be touched by the level of concern and sadness regarding those troubled times of yesteryear.  I wanted to record imagery in an informal way, but still present pictures of memorandum reflecting upon what these individuals did for Canada.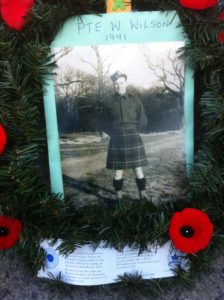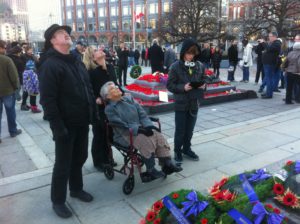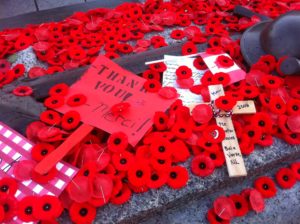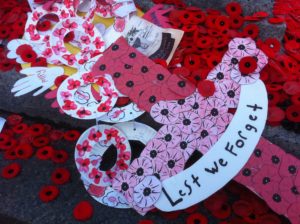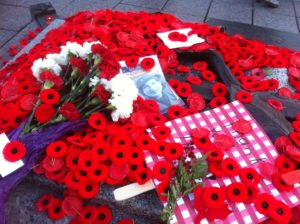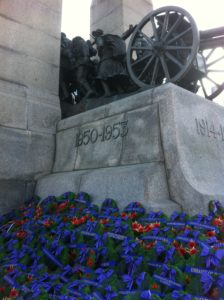 The month of November has always been somewhat  a month of concern for myself and without doubt for many  in regards to what Remembrance Day stands for.   It holds a special meaning for me due to the fact that my mother was an employee of The Royal Canadian Legion for many years.  Her affiliation with the Legion was unquestionably an eye opener into the troubled times people were subjected to during the second world war.   She would frequently be exposed to numerous war related events, conventions across Canada, The United States, and of course, the existing veterans who served.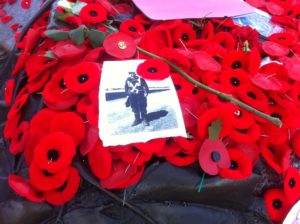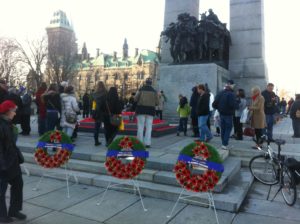 When I was  a teenager,  she became affiliated with the Legion, but did not relinquish much detail in regards to the tragic events and stories shared by others. Perhaps she considered the information to be too difficult to speak of and it's strong influence on young ears. It was only later in my twenties she would dispense much knowledge pertaining to those who suffered, lost their lives and the hardship for the surviving family members.  Over a period of several years, I had absorbed a considerable amount in regards to the Legion, it's purpose and it's benefits to the survivors and their families.    She became known for her excellent work, dependability, and later was recognized by the Legions Dominion Command Centre as the top confidential secretary.  The word secretary in today's time frame is a title that would most likely not garnish much accreditation however, in her position, it was a different reality being one who established a great trust and respect amongst managerial staff members.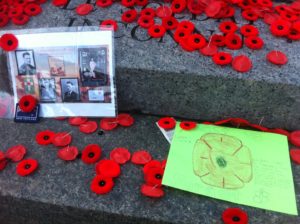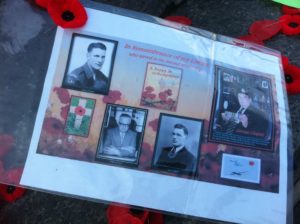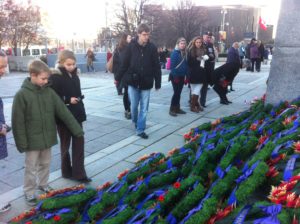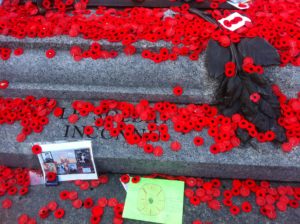 I recall a time approximately  one month following the Remembrance Day  service, when I asked her how long it takes to organize an event of this nature and her reply astonished me.  She indicated that they will begin anytime now planning "next years" service. Almost one full year in the planning.  The task of locating a silver cross mother, make all necessary arrangements for dignitaries to be in Ottawa turned out to be  monumental.  Coordination of these occurrences was considerable.  It made me realize that the Legions reputation for being a place known primarily as a discount establishment for alcoholic beverages by many, was  disrespectful and a gross misrepresentation of it's enormous help and benefit to many.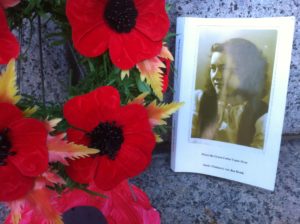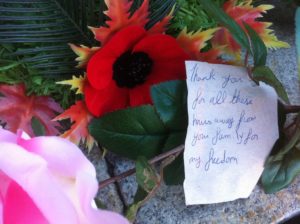 Over the years the advantages of becoming a member of The Royal Canadian Legion have changed considerably, and I invite you to visit the following link to their website to review benefits to this organization. Perhaps you might consider supporting them in any way you can aside from purchasing a poppy once a year.  (   https://www.legion.ca/who-we-are/affiliated-organisations/member-benefit-partners )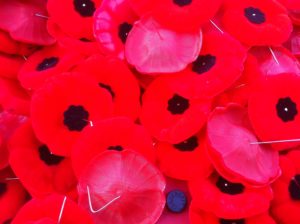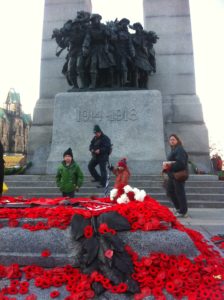 I have often visited cemeteries and out of town war time structures displaying rows and rows of headstones with my camera and in each instance, I am stopped emotionally.  How brief life was for these young men and women as demonstrated by the seemingly endless descriptions on grave markers of those gone forever in such tragic levels of circumstance.  It should make an individual  visiting these areas of remembrance very humble when reflecting upon  the life we lead during this period of history. In Ottawa, we have two main cemeteries representing areas of the military being Beechwood and Notre Dame.   I recorded a few pictures of this area at Beechwood during Autumn a few years ago and I would like to share one of them with you here.
At this time ladies and gentleman, I could elaborate more on conversations I absorbed from those involved in this "great crusade" as they called it but I do not think it necessary to do so.   In these fortunately peaceful times in which we are part of in Canada and despite the effects which Covid has had upon us, I would like to invite you to recognize the benefits and positivity that we can adopt in our lives. Media reports constantly thrive on levels of negativity and I would like to politely recommend that you limit your exposure to this form of consistent, mental contamination. I believe that staying informed "is necessary" but only to a certain degree.
"Don't become a student of adversity and succumb  to the negativity of others".
Simply stated; there are endless amounts of goodness available to us all, which will bring you continued happiness if you seek it.  That in itself is it's own reward.   Choose this path as opposed to the other. 
A Final Reflection Of Meditative Thought:
*** If those who died in the great war were given a choice today of which lifestyle to lead, what in your opinion would they choose?
With My Good Wishes Extended To You,
Jeff Ryan Photography/Ryan Studio
www.jeffryan-photography.com